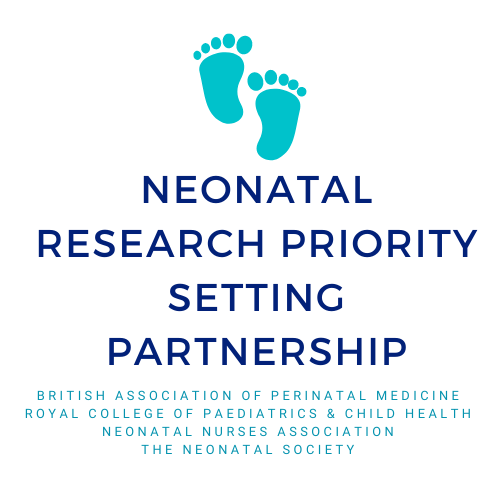 What is the Neonatal Priority Setting Partnership?
We are a group of healthcare professionals and parent representatives that have come together to oversee a process to identify and prioritise research questions that can be tested in randomised trials in UK neonatal care. Answers to the questions submitted should improve neonatal care and reduce unwanted variations in practice.

What will the partnership do?
Phase 1 - Invite submissions of research questions using a question building tool.
Phase 2 - Review the submitted questions and develop a final list (removing any duplicates, questions that have already been answered, and those out of scope.)
Phase 3 - Ask the perinatal community to prioritise questions in order of importance by completing surveys.
Phase 4 - Disseminate the results to stakeholders including research organisations such as the National Institute for Health Research (NIHR).
How can I take part?
We are currently in phase 3 of the process outlined above. The main prioritisation process has been completed.
Now we are looking for parents, families and former neonatal patients to take part in a dedicated parent prioritisation so please get in touch if you would like to be involved with this.
We are unfortunately unable to accept any other participants at this point as the Delphi process is already underway, however please look out for the results coming soon.
Who has been involved?
All those invested in neonatal care were encouraged to take part (including but not limited to) doctors, nurses, allied health professionals, parents, former patients and researchers to make sure we can identify the questions most important to all of us.