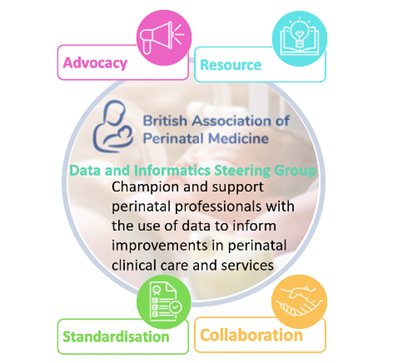 About this group
In January 2021, BAPM convened a Data and Informatics Steering Group in response to the increasing complexity surrounding neonatal data arising from varying quality measures and diagnostic definitions, and multiple electronic patient record systems.
The group aims to champion and support perinatal professionals with the use of neonatal data to improve neonatal care and services.
The remit of the group includes:
Advocacy for the collection and use of accurate data to benefit patient care and neonatal services
Development of shared resources to support perinatal professionals to maximise the utility of data to benefit patient care
Promotion of a nationally standardised approach to quality measure definitions and interoperability of EPR systems, reducing the burden of data entry for clinical staff
Facilitation of collaborative engagement between stakeholders to streamline data collection, curation and analysis for common purposes
Group Members
[Chair] Cheryl Battersby, Data Lead for BAPM and Neonatal Consultant, London.
Charlotte Bradford, Senior Information Manager, Yorkshire & Humber Neonatal ODN.
Sanjeev Deshpande, Neonatal Consultant, Shrewsbury and Telford.
T'ng Chang Kwok, Neonatal Grid Trainee and Research Fellow, East Midlands.
Juliette Lee, Neonatal Graduate.
Louise Weaver- Lowe, Neonatal Network Director, North West.
Kirstin Webster, ANNP and Clinical Fellow, Fife.
You can contact the any of the group members via the BAPM Office.