These two Toolkits support the implementation of ten core elements to optimise the provision of Maternal Breast Milk (MBM) for preterm babies throughout the neonatal journey, to discharge and beyond.
Part One covers the foundational first five elements, focussing on the initiation of lactation.
Part Two delivers the subsequent five elements, focusing on sustaining lactation and transitioning to breastfeeding though the neonatal stay, to discharge and beyond.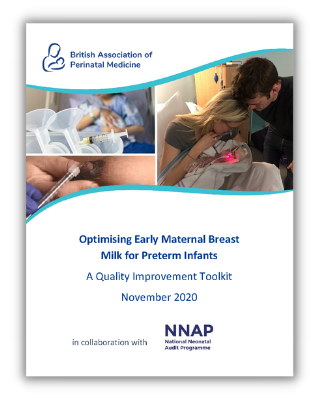 Part One
This Toolkit focuses on the first five core elements that support the optimisation of early MBM:

Parents as equal partners in their baby's care: Parents are empowered to take part in all elements of their baby's care, facilitating strong close and loving attachments.
Antenatal education: Educating families about the value of MBM in prematurity, importance and process of early expressing.
Initiation of expressing soon after birth (aim within 2 hours): With easy access to support, training and equipment.
Early Colostrum (ideally within 6 hours of birth and always within 24 hours): MBM to be the first enteral feed given to baby.
Early and regular parental physical contact with their baby: Delivery room contact, skin-to-skin early and often
The toolkit will introduce some basic QI tools and methods that are quick to learn and easy to apply. It does not intend to replicate any existing local or national QI activity undertaken in the area of focus but to complement these endeavours with a practical step-by-step guide.

Toolkit Overview (PDF)
Context, Objectives & Evidence (PDF)
Evidence Infographic (PDF)
Your improvement journey (PDF)
Tools & Resources (PDF)
Evidence Summary (PDF)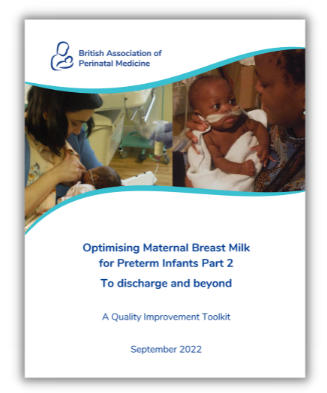 Part Two - To Discharge and Beyond
The objective of this Toolkit is to deliver the second five elements, which build upon the foundation of the first Toolkit.
Positive oral touch & non-nutritive sucking.
Establishing a good milk supply.
Responding to challenges around breastfeeding and lactation.
Infant led approach to the transition to responsive feeding.
Successful MBM feeding after discharge.
This toolkit is aimed at individuals and teams who are involved in quality improvement around MBM.