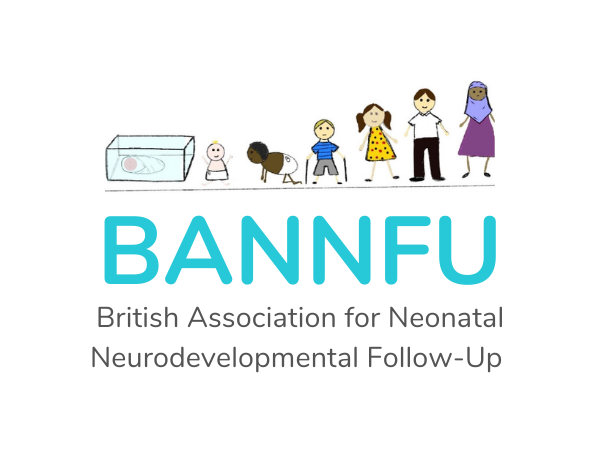 About BANNFU
The British Association for Neonatal Neurodevelopmental Follow-up (BANNFU) is a Special Interest Group of BAPM. BANNFU is a multidisciplinary group which exists to improve the long term outcomes of all babies that have had neonatal care by disseminating best practice and improving care.
Membership of the group is open to health care professionals who are active in this field (Neonatologists, Community and Neurodisability Paediatricians, ANNPs, SALT, OTs, Dieticians, Community Paediatric nurses, Educational and clinical Psychologists, Physiotherapists, Neonatal and Paediatric nurses, Community Neonatal nurses, Teachers, Parents, and Midwives.)
President: Fran O'Brien
Chair: Anusha Arasu
Secretary: Angela Damore
Committee Members
Anthony Kaiser
Pip Chisholm
Edit Fukari-Irvine
Hilary Wong
Naz Merchant
Charlotte Huddy
Laurence Galland (mat leave )
Patrick Ottersback
Ben Wills
Betty Hutchon
Sam Johnson
BANNFU's Responsibilities
To share best practices on neonatal neurodevelopment, with local clinicians
To advise on early interventions in the unit or after discharge, that may improve early childhood outcomes
To provide guidance to clinicians and families on neonatal neurodevelopmental follow-up
To advocate for high-risk babies discharged from a neonatal unit to have formal neurodevelopmental follow-up
To monitor compliance with the recommended guidance on neurodevelopmental service by surveying local practice
To ensure an updated outcomes' record form is available on the online platforms accessible to local clinicians
To collaborate with local, regional and national audit programmes on improving the capturing of data.
To recommend that every Neonatal Network has a Follow Up Coordinator responsible for supporting the service provision in the area, and ensuring data collection.
To support the analysis of information entered on the outcome's forms
To raise the profile of clinicians and families providing developmental follow up care by organising and supporting educational events.
To facilitate communication between teams and encourage sharing of best practice
To contribute to and facilitate collaboration in research and development in follow-up methodology and outcomes.
Future plan: To raise awareness about the skills that babies discharged from neonatal units need for school readiness and school entry, and to encourage liaison between health and educational services.
Read BANNFU's Terms of Reference
Join BANNFU
To join BANNFU you must be a member of either BAPM or BACCH. There is no additional charge to join BANNFU for BAPM or BACCH members. Group members details will be shared with the BANNFU committee.