Skip to main content
Speakers include Dr Andrew Mayers, Principal Academic at Bournemouth University and Jilly Ireland, RGN, RM, BA, MSc, PGcert HELT, Professional Midwifery Advocate at East Dorset Hospitals NHS Foundation Trust

Jilly Ireland will be talking about the Whose Shoes? board game, which is a useful interactive tool to aid discussion around maternity care. Today we will talk about infant feeding and anything which comes up for the players around the subject and the experiences and feelings of those around the table. The game encourages players to take on perspectives gained from 'walking in others' shoes and relating the stories and comments in the game to their own lived experiences and feelings.
Venue: Cobham Lecture Theatre
This is one of a series of events running alongside the 'Breastfeed: Portraits with Purpose' exhibition by artist Leanne Pearce in the Atrium Art Gallery (open Monday 9 March - Friday 1 May) at Bournemouth University. The full programme of events below is available here. Tickets for these events are free of charge but places are limited so please book early to guarantee your ticket.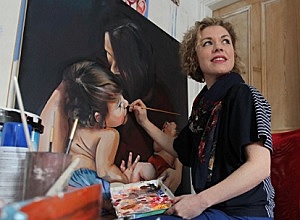 To book: https://www.eventbrite.co.uk/e/breastfeed-portraits-with-purpose-exhibition-programme-of-events-tickets-90971593485

Contact: Dr Minesh Khashu