The National Child Mortality Database (NCMD) second Annual Report has been published. The report is based on data for children who died from 1 April 2019 to 31 March 2020 in England. NCMD aims to learn lessons from child deaths in order to reduce the number of children who die in the future, and the analysis in this report is a key step towards that aim.
Commissioned by the Healthcare Quality Improvement Partnership (HQIP) on behalf of NHS England, this report includes analysis of 3,347 children who died in that period – which equates to approximately 28 child deaths for every 100,000 children living in England.

The infant mortality rate (children under one year old) in England over the same period was 3.4 deaths per 1,000 live births, since most deaths occurred before the age of one (63%). Of these - where gestational age at birth was known - 69% were born preterm (before 37 weeks). 42% of all children who died were under 28 days old, prompting a recommendation in the report to reduce the number of preterm births and improve outcomes after preterm delivery.

For the first time, modifiable factors have been analysed on a national scale, enabling key areas for improvement to be identified. Across all categories of death, the most frequent modifiable factor identified was smoking by a parent or carer, followed by gaps in service delivery.

The infographic below offers a summary of the 11 most frequent modifiable factors identified as part of the child death review process.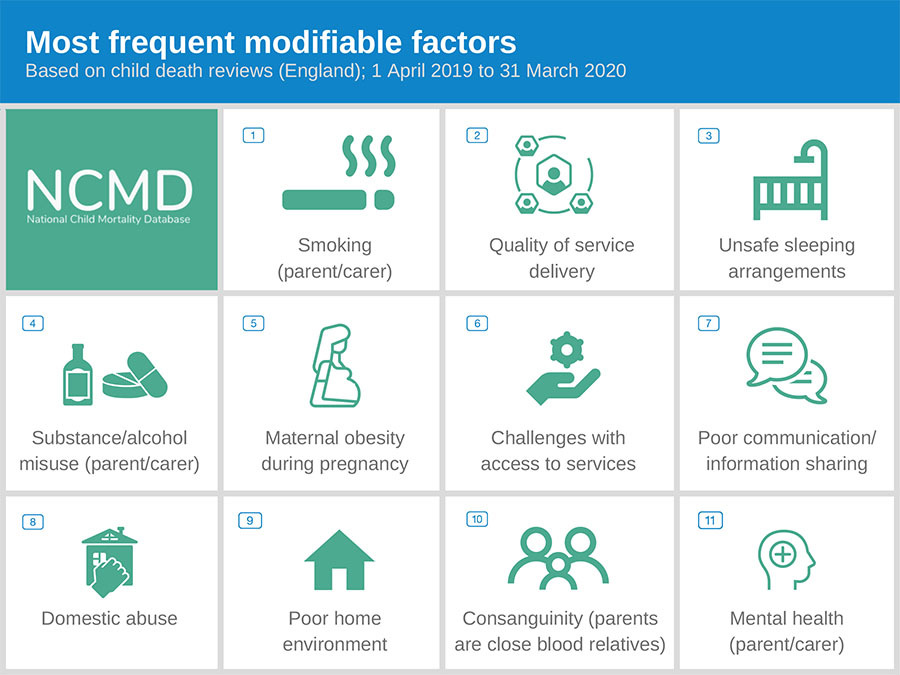 The NCMD is calling on all professionals involved in planning or providing services to children to use the data in this report to inform local, regional and national actions in order to reduce the number of children who die. You can help by sharing details of this report with your colleagues.

An online event to disseminate the findings from this report will be held on 22 June 2021, 1-2pm. The event is open to all (more details can be found here).

Read full report