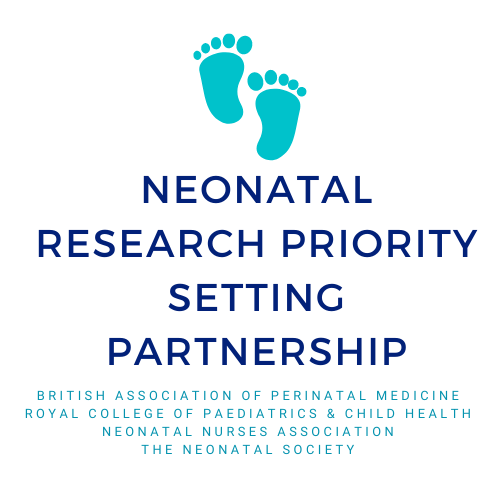 The Neonatal Research Priority Setting Partnership is currently seeking to identify research questions that can be tested in randomised trials in UK neonatal care.
The first phase of the project has now been completed and the compiled questions are now available for prioritisation. During the initial ranking phase there will be an opportunity to submit further questions.

The first Delphi round is open until 5th June.
Has my question been included?
The steering committee has reviewed the submitted questions to develop a final list removing any duplicates, questions that have already been answered, and those out of scope. A full list of all the questions submitted in PICO format is available at the bottom of the page.
Supporting Resources
To ensure questions are specific and detailed enough to be answered in large clinical trials we are encouraging structuring using a Population, Intervention, Comparison and Outcome (PICO) format. If you are not familiar with developing questions in the PICO please see our supporting resources.
Developing a PICO Question (Video)
My PICO Question - Example from an AHP (Video)

Webinar: Prioritising Neonatal Research Questions (Video)

What happens next?
After submissions close we will email you with an invitation to take part in the prioritisation phase of the project. You will be sent the final list of questions and asked to rank these in order of importance. We will use a three phase eDelphi process to come to a consensus on which questions are the most important to be answered in UK clinical trials.
Help
If you need any more help please contact Katie Evans.